Bangkok is the capital of Thailand and is considered to date, as one of the main tourist destinations worldwide
Tourism is the main activity of the place since it has come in increase with the passage of time.
A city full of colors, ancient historical temples, and many tourist destinations, which is even the base for other tourist destinations.
Full of natural wonders, there are some tourist attractions that you cannot miss.
Here are the 10 wonder attractions you should visit if you decide to take your vacation in Bangkok
Wat Pho
One of Bangkok's main tourist destinations is Wat Pho.
A huge and majestic temple built thousands of years ago by King Rama I.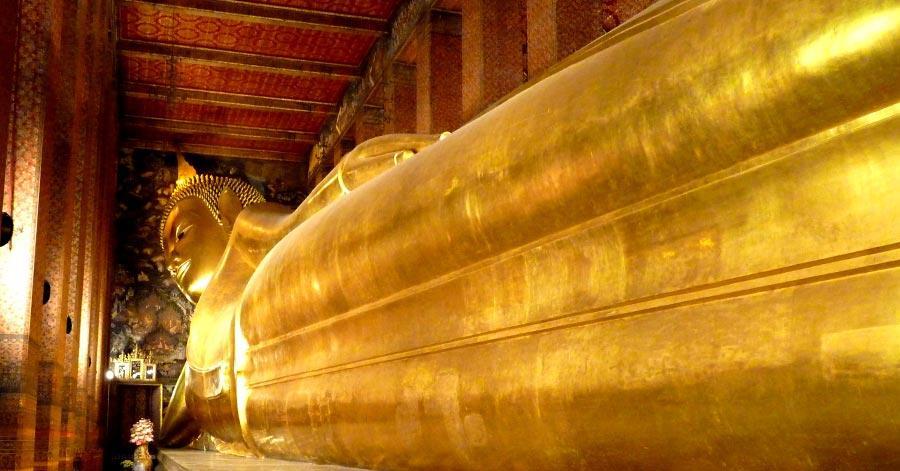 It is also known within the tourist world with the name of Temple of the Extended Buddha because there is a statue of Buddha that cannot be observed completely, as it measures 45 meters.
Wat Arun
Generally known as the Dawn Temple, it is considered one of the most interesting experiences in Bangkok, as its architectural style is totally different from the rest of the temples in the city.
It highlights its towers that have been decorated with seashells and some pieces of Chinese porcelain.
It is possible to find inside the temple, sanctuaries, ponds, and buildings.
Chatuchak Market
Considered the largest market in Thailand as you can find thousands of sales stalls and is visited by hundreds of people daily.
If you want to go shopping and find interesting objects, clothes, and souvenirs at very affordable prices, in addition to restaurants and drink stands, this is the place you should definitely visit.
It is open every day of the week including holidays.
Lumpini Park
Known to tourist level with the name of the Green Lung of Bangkok, this park is the indicated place to find peace and tranquility.
With a total of 56 hectares of green areas and lakes, it is the ideal place to practice sports or just relax with free Tai Chi classes that are given there.
The park's opening hours are very accessible, and entrance is free.  You will surely love this place.
Excursion to Ayutthaya
An incredible excursion that will be part of your amazing holiday.
The tour includes a buffet lunch while crossing the waters of the Chao Phraya River.
A monumental group of archaeological works declared World Heritage.
The groups for the excursion are small so make sure you get the tickets in time, or you can pay for a private tour for a few people.
Visit the Baiyoke Sky Hotel
If you want to see Bangkok from the heights, this must definitely be your stop to enjoy one of the best places in Southeast Asia.
With a total of 85 floors, the hotel offers its guests quality services, buffet-style dinners with both national and international dishes, tickets to the observatory, and the spinning stages located on the 84th floor of the hotel.
Temple of Mangkon Kamalawat
Definitely one of the amazing places to not forget when you visit Bangkok is this temple and it is definitely one of the most captivating places for tourists who come to the city.
The reason is very simple, it is the largest and most important Chinese Buddhist temple in Thailand.
In this place is very common to hold different celebrations such as the Chinese New Year and the Annual Chinese Vegetarian Festival.
In the temple, you can see different sculptures and figures that are relevant to Buddhism and Taoism, enclosed in a Chinese architectural style, provided with large roofs with smaller figures of animals and flowers.
Flower market
It is considered one of the biggest tourist attractions in the city and a mandatory stop for every person that visits Bangkok.
A market is full of colors and smells where you can find a variety of roses and orchids.
You can also buy vegetables, fruits, different types of fish, and restaurants, where you can delight in delicious traditional dishes in the city.
The market is open to the public 24 hours a day, so you can visit at any time.
This market is the best way to learn a little more about life in Thailand's capital city.
The Grand Royal Palace of Bangkok
Also known as Grand Palace, it is considered an architectural jewel by tourists and residents of Bangkok and a wonderful place to visit.
An interesting group of buildings in the center of the city.
In it, you can find different rooms, gardens, and temples.
The palace is divided into four different sectors such as the Siwalai garden, Phra Maha Monthien, Phra Maha Chakri, or Phra Maha Prasat, each with different characteristics and history.
Go to Chinatown for dinner
Without a doubt one of the most emblematic places that you will have to know in your next vacations.
It is a neighborhood that changes its activities depending on the time.
During the day, you can find the Sampeng market where the products are sold wholesale.
In the evenings, a large number of restaurants will be waiting for you to taste the delights of their traditional dishes where you can taste Thai and Chinese food.
If you decide to visit the place by day, we also recommend that you get to know the tempo Wat Traimit, a place that will amaze you with its beauties.
There are many places you can visit while you are in Bangkok, always remember to take your documents to the walks and enjoy one of the best places to travel to.
If you are planning to travel to Bangkok, use the map to locate the hotel that you like the most and enjoy a great vacation now!
If you do not find many hosting options try a different range of dates.