Globally, Melbourne has been ranked as one of the oldest, most beautiful, and peaceful cities to visit
Located in Australia, is the second-largest city, full of small buildings, alleys full of shops, and urban places to visit is a city that is constantly expanding gradually becoming a fashionable city among tourist destinations.
The great diversity of cultures, traditional food, arts, and landscapes make this destination one of the best places to spend an excellent vacation.
Below we mention the best places located in the area for you to know more about this beautiful city.
11 Of The Very Best Things To Do In Melbourne
Excursion to Grampians National Park
If you are a nature lover, this park is an obligatory stop for you to discover the beauty of the Australian landscapes.
Excursions include a visit to several places of interest such as the historic town of Ballarat, the western volcanic plains, the Grampians Mountains and the Silverband, and MacKenzie Falls, where you will appreciate the eucalyptus forests.
Without a doubt one of the best tours you should take.
Botanical Garden
In this place you will be able to appreciate the almost perfect way in which nature integrates with the urban, giving its inhabitants a better quality of life.
In the area is a large number of green areas and trees, places for tourists to go for bike rides, picnics, and a very relaxed atmosphere.
In the evenings if it doesn't rain, it is common to organize movie theaters outdoors to enjoy a wonderful night in contact with nature.
Kilda Beach
It is located two hours from downtown, but the trip is worth it.
If you love surfing, this is an ideal place to practice the sport, you will also find shops, cafes, and restaurants that make the area a pleasant place.
It is a place of easy access and you can take the tram to get there.
There are also bicycle rentals for tours along the beach or through the streets of the city.
Flinders Street Station
Located near Federation Square has become one of the iconic places to visit.
It is the main cultural center of the city and you will also find cafes, restaurants, bars, and shops.
It is important that you know that the Tourist Information Office is located in this place, where you can learn more about the main places to visit in Melbourne.
Luna Park
One of the most popular destinations for both families and tourists who visit the area.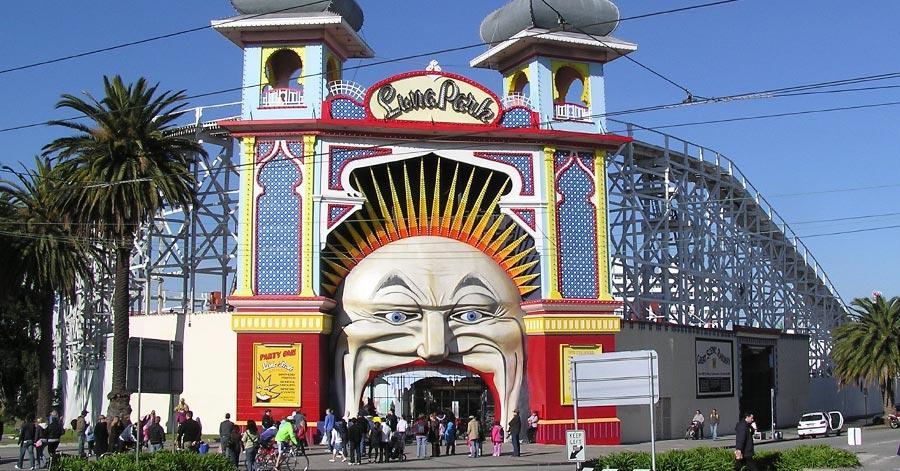 A park is full of different attractions that will be to the liking of young and old.
With incredible roller coasters that include The Great Scenic Railway, a huge roller coaster made of wood that reaches high speeds and surrounds the park, allowing you to have a view of what is around.
ACMI (Australian Centre for the Moving Image)
If you're the kind of person who loves movies and digital technology, this is definitely a place to include in your visitor's list.
An amazing museum in which you can enjoy different presentations on the history of cinema, you can entertain yourself playing video games, attend different exhibitions for free and enjoy the latest innovations.
Queen Victoria Market
The oldest and main market in the city.
Here you can be in contact with the traditions, memories, and typical dishes of the place, besides being the ideal place to buy cosmetics, fresh fruits, clothes, and souvenirs.
You can also find art and craft stores, accessories, gifts, and even sports.
One of the best places to visit if you are taking your vacations in the place.
Shrine of Remembrance
This building of great importance for the city is an obligatory stop during your vacations.
Created as a tribute to Australians who helped resolve different conflicts over time.
With classic architecture, was built during the First World War which makes it a National Heritage.
There are also art exhibitions and special events throughout the year to entertain tourists.
Fitzroy
A recognized neighborhood of the city full of personality and places to visit.
A party atmosphere is what you will find at night when bars and restaurants start their happy hours.
You can also visit three of the city's most important streets: Brunswick War, whichmith Street, and Gertude Street.
Delight your palate in the Bimbo Deluxe where you can taste delicious pizzas at a very low cost.
Also visit the street art, where the urban art will delight as well as the laneways, streets full of beautiful graffiti.
National Gallery of Victoria
For art lovers and the general public, this is the main gallery you will find in the city.
With collections that are presented permanently offers the tourist a satisfactory visual experience.
They also have different activities for children, night shows, and plays.
Brighton Beach
With calm and clean waters, we assure you that this will be one of the best places to visit.
A beach known for its colorful cabins considered a heritage of the city and its sea baths, which attract thousands of tourists per year.
It is also a very safe place to swim and rest, surrounded by nature reserves that you can visit, or just enjoy a day in the countryside.
Definitely a place you cannot forget when you visit Melbourne.
If you are planning to travel to Melbourne, use the map to locate the hotel that you like the most and enjoy a great vacation now!
If you do not find many hosting options try a different range of dates.