We are going to talk about 8 attractions in Sydney but first, let's see where this heavenly place is.
Sydney is located in southeastern Australia, on the shores of wide Jackson Bay.
It is a tourist city with a great influx of cultures from all over Australia, known as a multicultural city.
It is both the largest city in Australia and one of the most multicultural cities in the world.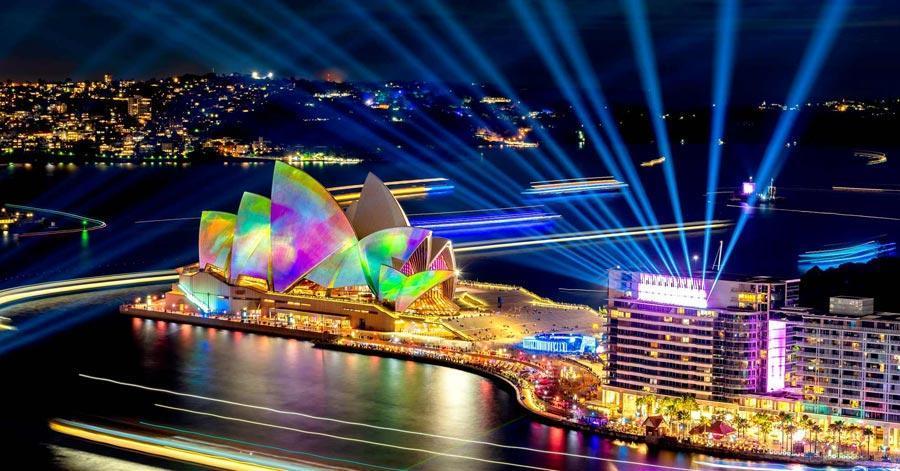 For many tourists, this is one of the best places in the world to enjoy your holidays alone or with your family.
Here we tell you about 8 attractions in Sydney that make this amazing city an indescribable place to visit
Sydney Opera House
It is located on the Bennelong Point promenade and is considered one of the most famous buildings in the world.
It was designed by Danish architect Jørn Utzon, and you can see its white diagonal roofs that make this important center of performing arts look like a giant ship in the middle of the sea.
The place also has glass walls, which allow visitors to appreciate wide views of the port.
In addition to the Opera House, it has 1,500 seats, a concert hall, three theaters, as well as several bars and restaurants where you can taste the best of traditional food.
Bondi Beach
Located just minutes from Sydney's central business district, Bondi Beach is a beautiful place full of golden sand lined with red tile houses with roofs, apartments, and green spaces.
An amazing place that attracts surfers from all over the world as it is a place that has a lot of waves and strong tides at the southern end of the beach, so this place is reserved for surfers.
The beach is well guarded by police patrols and is equipped with changing rooms, in addition, you will find a lot of cafes, bars, and shops.
Reina Victoria Building
Better known as the Queen Victoria building, this building is a shopping center that occupies an entire block and is home to nearly 200 merchants, one of the best places to go and do some shopping.
The building was designed as a marketplace and concert hall.
This building now boasts an incredible neo-romantic design popularized during Queen Victoria's reign, a large copper-coated glass dome, ornamental cast-iron railings, and numerous stained glass windows.
Sidney Tower
Rising 1,073 feet above sea level, the Sydney Tower is the city's tallest structure, offering 360-degree views of the compact metropolis, the harbor and the surrounding area making it one of the most visited places by tourists year-round, a tourist attraction hard to miss
The tower has an enclosed observation platform that completely surrounds the structure, has three catering facilities, including the 360° revolving restaurant.
The last attraction that was added to the Tower is a "4D" cinema, which enhances the theatrical experience with special sound effects.
Sydney Bridge
The iconic Sydney Harbor is considered one of the top tourist destinations for adventurous visitors.
The bridge has an arch 134 meters above sea level and stretches 503 meters.
In it, you will find the attraction called Bridge Climb that allows visitors to ascend to the top of the arch. Participants are equipped with protective clothing and secured to a cable lifeline during the three-and-a-half-hour ascent and subsequent descent.
For those who want a less adventurous vision, the Pilon Observation Museum is a popular attraction.
The Darling Harbor
Surrounded by Sydney's industrial quays and jetties, The Darling Harbor was rebuilt during the 1980s with future tourism in mind.
It is located right next to Sydney's central financial district, home to some of Sydney's most popular tourist attractions such as Australia's National Maritime Museum, Sydney Aquarium, Aboriginal Centre, and the world's largest screened IMAX theatre.
The child-friendly Harborside shopping center features a bowling alley, laser room, and a jet flight simulator.
The east side of the coastline has luxury shops, bars, and restaurants where you can taste international and traditional local dishes.
The Royal Botanic Garden
Founded in 1816, this beautiful Botanical Garden is located near the Sydney Opera House and is an incredible green space open to the public.
Here you can have excellent views of the harbor, the urban park contains more than 7,500 species of plants, many of which are native to Australia.
Outstanding collections include the Tropical Center, which has plants located in pyramid-shaped greenhouses, and the rare and endangered species of the garden, which includes an ancient Wollemi Pine, a tree genus that dates back 200 million years.
There is no entrance fee to the park, and it has free guided tours which make the place one of the main tourist destinations to visit.
The Rocks
Located between the harbor bridge and the north end of Sydney's central business district, The Rocks is known as the city's oldest neighborhood.
Today, the neighborhood that was redesigned many years ago has become a popular tourist destination full of art galleries, fashion boutiques where you can shop, souvenir shops to acquire souvenirs from the area, trendy restaurants for Taste local food, and bars to enjoy a good time with friends.
There are many things you can do, observe, and places to visit in Sydney.
Always remember to bring all your papers and be prepared to enjoy the best vacations of your life.
As well as these 8 attractions in Sydney, you can find many more, this city has many places to visit day and night depending on your preferences.
If you are planning to travel to Sydney, use the map to locate the hotel you like the most and enjoy a great vacation now!
If you do not find many hosting options try a different range of dates