If you wonder is Poznan worth visiting on your next vacation, we assure you that you will not regret it.
Poznan may not be the largest city in all of Poland or one of the most popular, a city that is in constant economic and tourist growth.
Poznan offers visitors a wide variety of activities to perform and tourist sites of interest to visit.
In the end, you will have no doubts it is Poznan worth visiting
The place has many amenities that will make your vacation the best and in it, you will find everything you need to make a perfect trip.
Poznan is a place where you will have the opportunity to know everything Poland has to offer.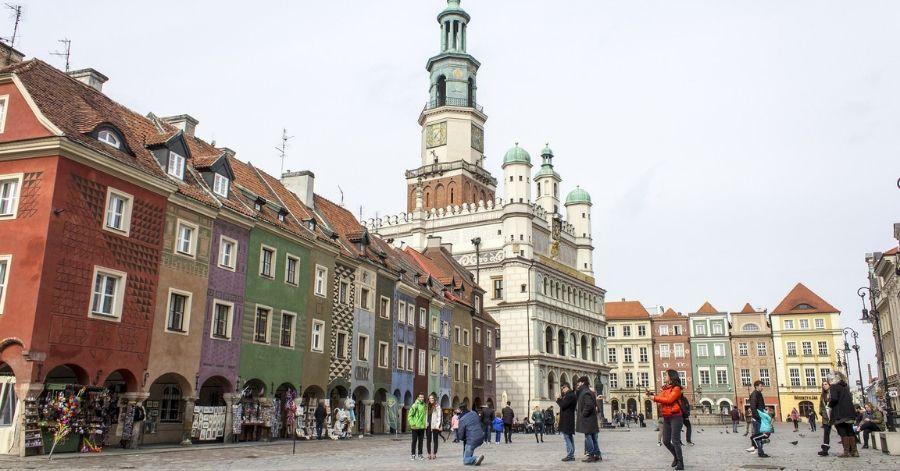 Here is a list of the best 7 places to visit in Poznan; some of the best reasons why visiting this city will leave a mark on your heart.
Old Market Square
Considered one of the most beautiful places to visit in Poznan, it is the ideal place for you to make your purchases.
Visit places of interest, and take photos are of course other activities that you can do to complete a fantastic day.
In the place, are different restaurants where you can taste delicious traditional dishes of the area, enjoy drinks and spend a pleasant time in the company of friends.
If you visit the place on a Sunday, you can also visit the fair and you can buy handmade products and sweets.
You may taste typical food (if you ask where to eat in Poznan Poland), and honey.
It is a pleasant place for tourists and the attention they provide to the customer is spectacular.
You can also enjoy the view because in the place you will find a succession of buildings of different colors and styles built during World War II.
You will also have access to know the Museum of History of the city, which has an emblematic clock at its top.
Which, at 12 o'clock, opens its doors from which two goats collide their urn, a show that everything tourist must observe.
Parish Church of St. Stanislaus
It is considered one of the main tourist attractions of the city.
This incredible church has one of the most spectacular architectures in the area.
Located in the center of the city, it is a wonderful place and you can enter for free.
It was founded by the Jesuits in the seventeenth century and its baroque style, its cover, and it's interior full of decorated altars make you travel through time.
In the place, you can also attend the different religious services that are performed also you can listen to the impressive organ of the church.
It is very close to Market Square, so you can take advantage of your visit to move to this interesting touristic place.
Centrum Stary Browar
Another of the main reasons to visit the area is for its incredible shopping centers.
The Centrum Stary Browar is one of the best tourist places where you can make all your purchases.
Located in the center of the city makes access for tourists easy, its good architecture is also a delight for everyone who visits the place.
So here, you can find a wide variety of shops of all kinds, restaurants where you can taste all the best area's traditional food.
In addition, you can enjoy many places to take a well-deserved rest.
However, without a doubt, this place is one of the greatest tourist sites to visit in the area.
Ratusz Poznański
A compelling reason to visit the area is for its rich past full of history.
In this place, you can witness the 16th-century Renaissance architecture, such as the City Hall building.
It is located in the center of the city and you can witness different types of cultural activities typical of the area.
It is for sure, one of the best places to visit in Poznan.
Enigma Code Brakers Monument
The history and culture that encloses the place is an important reason why the site is visited by hundreds of tourists a year.
In the place, you can find different types of monuments, they all contain an important history, and this is the case of this monument.
It was built several years ago to commemorate the brave mathematicians who managed to decipher the Enigma encryption system code.
That German code existed during World War II.
Ostrow Tumski, A Place That Confirms Why Is Poznan Worth Visiting Undoubtedly
As we mentioned before, one of the main reasons to visit this beautiful place is a large number of historic buildings.
One of them is the Ostrow Tumski.
This impressive church stands out among the others for having a beautiful red bridge and a fairly modern museum.
Its architectural design is incredible, full of gardens.
You will have the opportunity to observe the landscapes and the island of the Cathedral.
A Gothic-style structure with side chapels, considered as an archdiocesan and archaeological museum.
Zamek Cultural Center
Finally, the culture in the place is incredible, an example of that is this cultural center.
A beautiful building near the station and in the place, you will be able to enjoy the cinema, theater, concerts, and different types of art exhibitions.
Poznan is a city that has a lot to offer you, because of full of culture and history.
Is one of the most beautiful tourist destinations where you can enjoy an excellent vacation.
So by now, you know what to do in Poznan Poland.
If you are planning to travel to Poznan in Poland, use the map to locate the hotel to find where to stay in Poznan, enjoy a great vacation now!
If you do not find many hosting options try a different range of dates.