The Beautiful City of Florence is The Capital of Tuscany
A place is full of art, history, and culture where a large number of statues, squares, temples, cathedrals, palaces, and museums make it the ideal place to spend your holidays.
Recognized worldwide for maintaining its buildings dating from the sixteenth century, keeping a close relationship between modern and classicism.
In the place, you will also find incredible restaurants and cafes where you can taste the best of Tuscan food, night activities for you to spend a happy and fun time, and a lot of historical places where you can learn about the culture of the place.
Undoubtedly, Florence is one of the best tourist destinations to spend a dream vacation.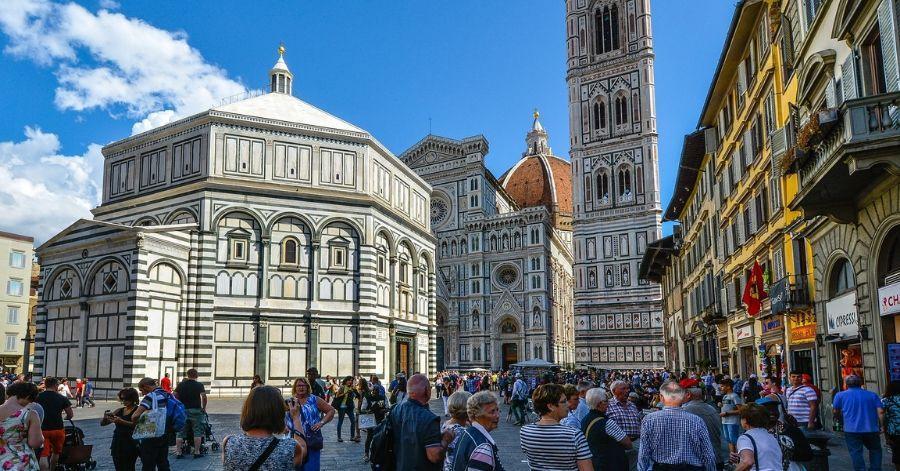 There are several exciting places in Florence that you must visit during the weekend, next, you can find a list of these amazing places, so you can plan with time your next vacations.
6 Places in Florence Italy
Piazza del Duomo
This incredible place is one of the most important tourist attractions in the area and you should include it in your visit plans.
It is considered by its residents as the most important religious center in all Florence and in one of its corners, you can also find the Piazza Della Signoria, another place of interest that you will want to visit.
You will also have the option to visit the Museum dell´ Opera of the Duomo, where you will appreciate different artworks, mainly sculptures full of history.
It is a place to visit and if you have the option to buy your entrance tickets in advance it will be better, this way you will avoid long lines and save time.
Vecchio Square
Surrounded by incredible architecture, this place is reminiscent of the palaces of Venice and is also one of the most interesting visits you can make during your holidays.
Its impressive castle shape and 94 meters high tower make it one of the city's flagships.
Upon entering the palace, you will see two large statues, a copy of Michelangelo's David and Hercules and Caco, a work by Baccio Bandinelli, both world-renowned structures.
It has a variety of rooms where you can observe different works of art, each room of this incredible palace has its own life and a lot of personalities, its great beauty and color goes back to the past and will make you enjoy your vacation even more.
Florence Cathedral
One of the main cathedrals of the city, known by its inhabitants with the name of the Duomo, this is the largest church.
A beautiful facade made of white marble with green has an incredible dome measuring 45 meters in diameter which has become one of the main tourist attractions of the city.
In it, you will also be able to appreciate the Campanile, a place where you will find an enormous bell.
Among its main attractions is the tomb of Brunelleschi, which was discovered in the twentieth century. Inside, a large number of paintings and works of art await you, mainly the scene of the Last Judgement.
If you are willing to climb 463 steps you will have access to the dome, a place that will definitely fill you with emotion as the view of the city from this place is simply amazing.
A place you can't miss during your weekend in Florence.
Saint-Croce Church
This is the largest Franciscan church in the world and is considered the authentic pantheon of the city.
There are more than 300 tombs with important historical figures such as Michelangelo and Galileo.
Its structure full of wooden beams give way to the incredible sculptures and paintings that are adorning its walls, here you can see works of art by authors such as Brunelleschi and Donatello.
It's a place frequented by tourists from all over the world and there you can see different street artists shows.
If you want to visit this incredible place, we recommend hiring a guide, so you can learn about the history of the place.
In the place, you will also find a museum, two cloisters, and some smaller rooms.
Ponte Vecchio
This amazing place will surprise you with its large number of hanging houses and shops.
One of the oldest stone bridges throughout Europe that perfectly represents the city.
A symbol of romanticism where, years ago, visitors used to place locks as a sign of eternal love, this activity still works today although the locks are removed to keep the bridge safe.
It is a place that will fill you with tranquility and peace, where you can enjoy one of the best sunsets and watch different shows of artists that are presented in the place.
One of the best tourist sites to include in your list of activities to do.
Piazzale Michelangelo
A beautiful place where you can observe Florence from afar in all its splendor and this place is considered as the best viewpoint of all Florence.
In the place, you will find a variety of restaurants and cafeterias where you can sit down to rest and taste the delicious dishes of the traditional food of the area.
You can reach the place by bus or taxi and, if you are a lover of photographs, we recommend visiting the square at noon.
Without a doubt, it is a beautiful place that you should include in your visit during the weekend.