Considered the Favorite Destination of Tourists Who Come Every Year to the French Riviera
A place where you will undoubtedly spend the best vacation of your life, a true paradise between land and sea, where you can find a variety of beaches for sunbathing and practicing different types of water activities.
Whether you travel alone with the family, this place will cover all your needs and dreams.
You can also take the opportunity to visit the region of Provence, where you will be delighted with the rich cultural heritage of the area, delicious restaurants to taste the traditional food, or attend night concerts with live music, this is undoubtedly one of the best tourist destinations you will know.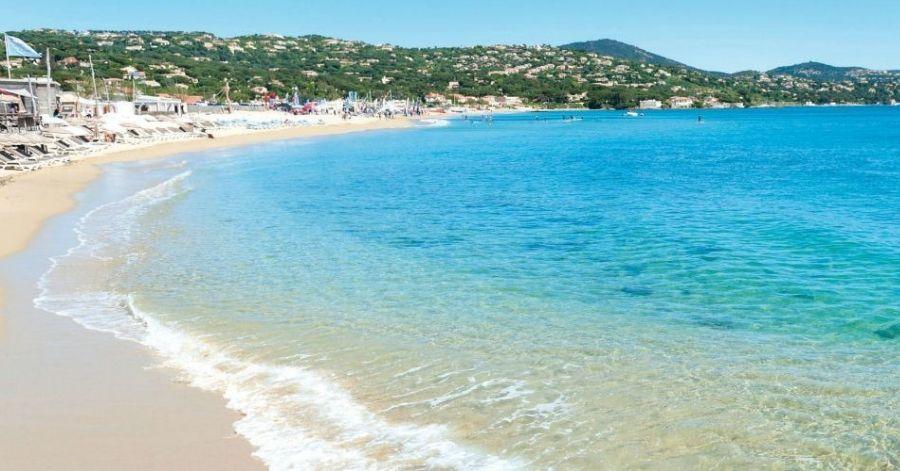 As its beaches are one of its main tourist attractions, we are sure that you will be amazed.
The Top 6 Beaches in Sainte-Maxime
Nartelle Beach
A beautiful place full of natural beauties, its clean waters, and a pleasant climate make this beach one of the best tourist sites to visit.
You can have from it, a breathtaking view of the Bay of Saint Tropez and enjoy the atmosphere that the place offers.
It is a very safe place for tourists and there you can practice different types of water sports such as kayaking, jet ski, and snorkeling.
In the place, you can also find several restaurants such as Barco Beach and Plage de la Nartelle and bars where you can eat delicious food at good prices.
You can also rent chairs and tables next to the beach to enjoy the sun and the sea calmly.
Pointe des Sardinaux
Located just 5 minutes from the center of Maxime, this place full of tranquility and peace is one of the best places to visit.
In the place you can enjoy one of the best views in the incredible views on the beach, you can picnic on the beach and sunbathe on the sand.
You can practice different types of water activities such as scuba diving and snorkeling to admire the wonderful marine life of the place.
Another great advantage is that, if you travel with your pet, this is the ideal place because the beach is a pet-friendly place so your best friend will also be welcome to the place.
Sainte-Maxime Beach
One of the best beaches you will be able to visit in the place is without a doubt Centre Ville de Sainte-Maxime, that in fact is cataloged by the experts as one of the best and most beautiful seashores that can be found in the French Riviera.
One of its main advantages is that very accessible to all tourists, even if you travel with small children, you can find in the place different restaurants where you can taste the delicacies of the area.
As a tip, we tell you to arrive early in the area because many visitors come to the place, especially during the summer.
Madrague Beach
This beautiful beach is located in a strategic position to enjoy a good vacation because it is at the end of the avenue of General Leclerc de Sainte-Maxime, just before arriving at Pointe des Sardinaux.
It is a beach full of natural beauty, quite long and narrow covered with clean and refreshing sand that in addition to offering several types of services gives you a beautiful and incomparable view of the Sardinaux.
It is a very visited place mainly by those people who are diving lovers because it is the ideal place for them to observe the presence of rockfish.
It is also a beach where you can take your pet, so it becomes one of the main tourist destinations in the area.
Central Beach
The downtown beach of Sainte-Maxime is located in the center of the city, so it will be very easy and practical for you to get there and be able to move to other places of interest while you enjoy your vacation.
Despite being a little less elegant than other beaches, its visitors classify it as the perfect beach.
It is very difficult to find a beach that has the type of sand that there is in the place because it is very fine and clean.
Once here, you can take advantage and visit the port of Sainte-Maxime, a must for every tourist and we assure you that you will not regret it.
It is a beach that is a bit isolated and access for people with reduced mobility is somewhat difficult, so take this into consideration.
Croisette Beach
This is the first beach you can find in the beautiful Sainte Maxime in Port-Grimaud.
A beach quite long and wide in an extension where you will be able to find a great number of necessary services to be able to spend a great day, you can find showers, places for cleanliness, and in addition, it counts on access for people with reduced capacities.
This beautiful place offers the tourist a beautiful view of Sainte-Maxime and also has a water sports center, where you can enjoy different types of activities.
One of the best beaches where you can enjoy your vacation surrounded by peace, tranquility, sand, and sun.