One of the best places to travel for many visitors
With the passage of time, the beautiful city has gained more popularity among tourists around the world that's why visit Dubai has become a true paradise.
A city that is constantly growing where tourism offers the visitor endless activities, entertainments, and luxuries, which we are sure many will enjoy.
This heavenly city is located in the Arab Emirates, exactly 200 kilometers away from the capital, and tourism is its main source of income.
A place that grows day by day, even reaching the ocean, because nowadays, its architects also focus on the construction of artificial islands along the coast to promote tourism, and these are islands that you should know if you plan your vacation in Dubai.
Before planning the purchase of your ticket and packing your suitcases, it is important that you take into account the different tourist seasons:
High season: from November to April.
Low season: July and August.
Mid-season: May to June, September, and October.
Places to stay in Dubai are plentiful, but at the same time, quite expensive, and here you can find virtually all the major hotel chains.
If you plan to take your vacation in Dubai, a good idea is to be able to rent an apartment, which are rented for short periods of time, at a lower cost, and more accessible to everyone.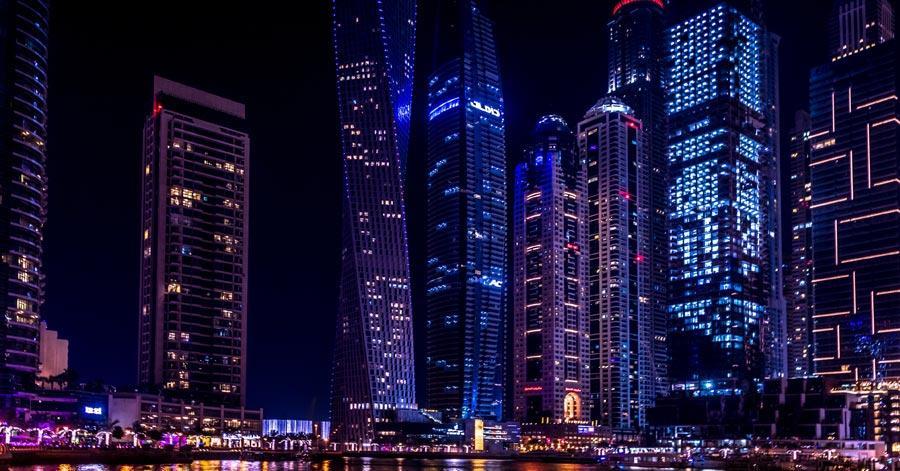 When planning your trip to Dubai, it is important that you know the type of weather you will be exposed to.
Its type of climate belongs to the arid subtropical, therefore, the temperatures in the place are quite high, they can even reach 42 degrees Celsius, being the nights a little cooler.
If you don't like hot climate, you can think about visiting the place at a different time of year, mainly during the spring and autumn, when temperatures range between 25 and 38 degrees.
Winter is definitely the best time in terms of climate, as temperatures are cooler and the environment remains drier avoiding high levels of humidity.
It is important to know that Dubai does not have a rainy season, and for this reason, the amount of rain that falls on some occasions during the months of December and April is relatively scarce.
You should bear in mind that on beaches the heat is felt even more, and the sun is quite strong, so it is important to wear sunscreens to avoid possible complications, for example, heatstroke.
The heat felt in Dubai is generally too stifling for people to enjoy the outdoors mainly during the summer months, with the exception of pools that even have cooling systems to prevent you from feeling like you're in a jacuzzi.
In addition, sandstorms are very frequent in March and April, but despite this, they can happen every time the wind starts to get stronger.
Although it is a little complicated to establish the best date to make the trip to Dubai since this will depend on your heat tolerance and even sand because sandstorms will always be present.
You should know that the best time to travel to the place are the months that go from December to March because it is the best time to travel quietly and enjoy all the comforts that the place gives you without getting too hot.
In these months you can also enjoy many different and interesting festivities that will allow you to enjoy all the wonders that Dubai has to offer, the city will be full of tourists and enjoy all the benefits of visiting a true intercultural epicenter.
If what you want is to go shopping in this paradisiacal place, the months of July and August are the best, because in these months there are important fairs of discounts and rebates that we are sure you will love.
During this time, although the days are longer and hotter, it is considered an average season to make the trip, and it would not be bad if you could schedule your vacation in these months.
Don't forget that temperatures during July and September can even reach 50 degrees Celsius, so if you're not brave enough to withstand the extreme heat, it's best to change the date so you can enjoy an incredible vacation.
In addition, in January and February, the Dubai Shopping Festival is held, which consists of an event in the most famous shopping center of the city, the Burj Khalifa, where you can spend a wonderful time, make many purchases at good prices, and take advantage of the incredible offers that the stores have to offer.
Apart from the weather, one should also take into account before making a visit to Dubai, Ramadan, a cultural event in which the dates may change each year depending entirely on the Islamic calendar.
Without a doubt, this is a fascinating period in Dubai, but you must bear in mind that this culture is very respectful of their beliefs and for this reason, you may encounter a number of limitations mainly in the hours of shops and restaurants, as the Ramadan implies a fairly restricted schedule.
Generally, the dates of this event are between August and July, which also includes the hottest months of the year.
If you are planning to travel to Dubai, use the map to locate the hotel that you like the most and enjoy a great vacation now!
If you do not find many hosting options try a different range of dates.